Artic Tales
Directed by: Adam Ravetch, Sarah Robertson
Narrated by: Queen Latifah
How many of you watched
'March of the Penguins'
and was overwhelmed by their spectacular journey through blizzard cold...to find a mate and start a family? The image of the penguins, marching in a single file, bracing themsevles against the antartic wind to protect their young, will probably stay forever in our minds.
The story:
Arctic Tale is a movie by the same people (different directors though) about those who inhabit on the opposite side of the pole- The Arctic.
And the centre of the story is the polar bears...to be specific....one particular polar bear, Nanu and Cela, the walrus. In between, you have a few other characters, like the arctic fox and the seals who inhabit the same place as these two and are dependant on each other for survival.
The story starts off with a mother bear, who is just emerging from her 6 months of hibernation after giving birth to 2 little bear cubs (those 2 bear cibs are really cute!). Normally, polar bear cubs stay with their mother for 3 years...where they will be taught all that is necessary to stay alive in the harsh environment. And each of the baby walrus have an extra guardian (besides their mother), in the form of auntie to protect them. And boy, these lady warulses can be really fierce....even full grown polar bears can find their weight and sharp tusks a little intimidating.
For the next 90 minutes or so, we see how each of these animals try to survive, not just their natural enemies, but also the changing environment due to the warming of the climate. For these animals, the melting of the ice world can be disasterous. When any part of nature is unbalance, their basic survival is affected.
Hence we see the walruses swimming far out to sea, away from their home, to another island when the ice melted too early and could not hold them anymore. We see the polar bears, at the risk of facing starvation, following them and hunting far from their natural habitat. And a couple of times, I did have my heart in my mouth, wondering if Nanu is going to survive this exhuasting trip, for polar bears are not meant to swim for long distances.
It is truely a survival of the fittest. Only in this case, even the the fittest may not survive if there's no food.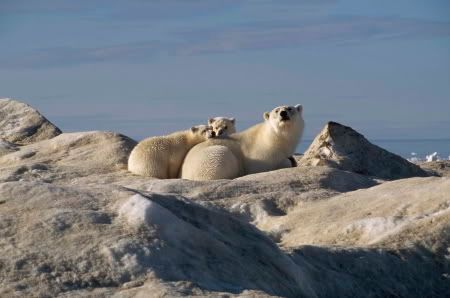 Thoughts on movie:
As with any National Geographic documentaries, this is an excellent production. There is no doubt about it. Some of the images are simply spectacular and breathtaking. I take my hat off to the people who braved the cold and harsh weather by patiently capturing scenes that are simply worth a thousand words.
The bear cubs were really, really cute (makes me want to get one) and they have even managed to inject some humour into the movie.
Perhaps that is where the one flaw may lie....
The underlying message is a serious one but the movie is just a little too warm and fuzzy to convey that properly. I like watching cute animals and often the sight of these warm, cuddley animals may be effective in giving that tug-in-the-heart feeling. In this case, perhaps they should have been a little more cruel...so that they can be kind. Plus I find the music a little too distracting as well.
Despite the above, it's still worth a watch.
If only to educate the young ones about the seriousness of climate change and that each and everyone of us can make a difference.
The ice kingdom is being threatened...and it is getting increasingly difficult for these animals to stay alive with the climate change. Their ancient ways of living, hunting and mating are being threatened slowly.
One day, one day...these animals may disappear ...like the dinosaurs. No more cute polar bears.
If you really want to bring a direct benefit by watching the movie, the following activities are being planned:
- The ZOO is holding an outdoor fundraising screening on Saturday, 8th September at 7.30pm in favor of Wildlife Conservation Singapore Fund - Go
here
for more info.
- Nature Society /Acres is also holding a fundraising screening.
Date: 11th September, Tuesday
Time: 7pm
Venue: GV VivoCity, Hall 5
Go
here
for more infor.
Incidentally, SPH foundation sponsored the Gala Premiere and S$120,000 to the Zoo for the Polar Bear conservation.
For more information about the movie, go to:
Festive Films
Official site
Arctic Tale opens on 13th September with sneak previews this week. Please support hor...