I posted this sometime last year, shortly after my 'walking' experience. Whilst going through my emails, I came upon this and decided to post it here, to relive that trip. To those who have read it before, err... maybe you want to read my
kimchi blog
instead. hehe! ^^
Written on 1st March 2005
Tim and I had a very eventful holiday week (well, it was more eventful for me than for him).
Our interests are quite similar. We both love nature and animals and don't mind going for walks. However, his definition of walk sometimes goes a little further than mine. So when he suggested climbing
Mt Kota Kinabalu
(which basically, is the highest mountain in SEAsia), I was a little apprehensive. But he assured me, I quote: "No problem, you can do it. Everyone says it's easy!" I have reminded him of this assurance that conned me into going, with every aching opportunity.
We decided to try out one of those budget airline for this trip. We took Air Asia, which was basically ok except for the troublesome fact that you HAVE to travel to Senai airport. We also did not know that it was free seating till we got on the plane and realised that most of the good seats were taken. No wonder everyone was queuing up at the gate earlier! Jetstar and Value Air definitely better but unfortunately, they don't fly to Sabah.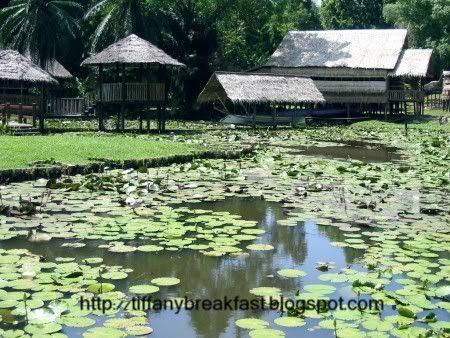 Mt Kinabalu is in Sabah and part of East Malaysia. Compared to Sarawak, Sabah seems less laid back, We covered the national museum and the Bird Sanctuary within one afternoon (frankly speaking, Singapore's Sungei Buloh is much better in terms of birds viewing). The museum is adequate and we spent a very pleasant lunch hour in the park just behind the museum, where they had put up lots of traditional houses. It was a very nice surrounding, except for the Chinese pop music that the guard was blaring away on his radio.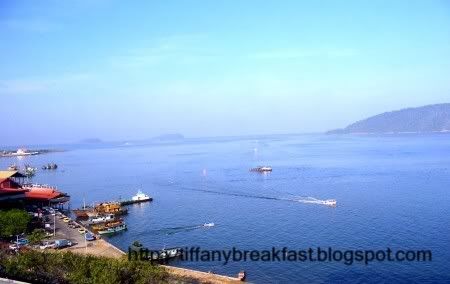 KK is pretty boring but beyond KK, there's lots to do, particularly if you're into nature, adventure or sports. However, the view from our hotel was quite something. And it was a little more happenning along the waterfront..if you are into cafes, food and drinking. View from Hyatt Hotel.
Anyway, after spending 2 rather uneventful nights in KK, we were off to the exciting part of our holiday on Sunday morning. Along the way, we had our first view of Mt Kinabalu. I must say it looks magnificent and rather scarily high.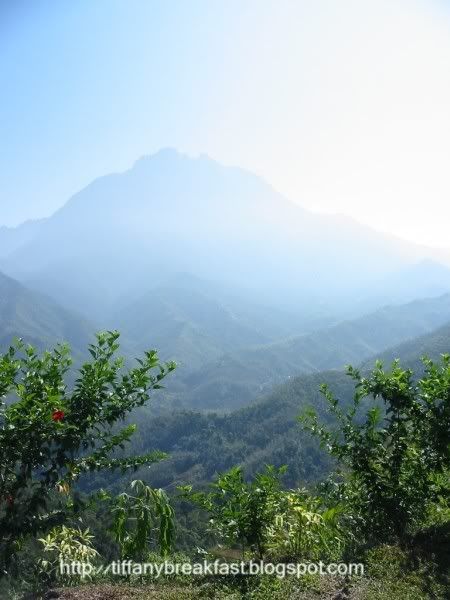 Mount Kota Kinabalu
We checked into the Kinabalu Park HQ. Kinabalu Park, with Mt Kinabalu within it, is Malaysia's 1st world heritage site. There are beautiful lodgings at the Park's HQ and most climbers will stay for at least a night here before starting off for the climb the next day. The room is spacious, roomy though a little basic. But the views more than made up for it.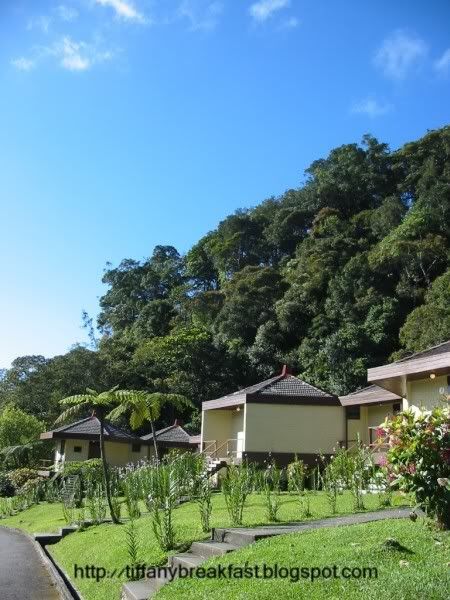 Hill Lodge- one of the accomodation at the Park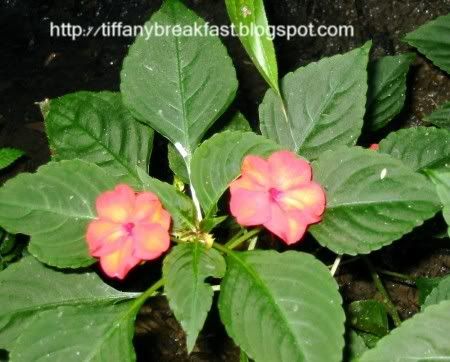 The park has hundreds of wild orchids, including the world's smallest orchid, as well as numerous pitcher plants and the famous, rare Rafflesia. It has beautiful and vast biodiversity, ranging from the lowland rainforest to the bare granite. The temperature ranges from the normal tropical 30's deg C to the freezing cold of below 0 deg C. There are also many trails that you can wonder on your own (in case you are not crazy enough to attempt the mountain) and we tried out one on our own in the afternoon. Although on hindsight, I should have just stayed put inside our lodgings and enjoy the view as I would be walking ALOT the following 2 days.
The view of the mountain right outside our front door was a sight to behold! At night, the sky was brilliantly clear and you could see all the stars as well as the beautiful moon. Definitely cannot get that kind of view in Singapore. Sigh....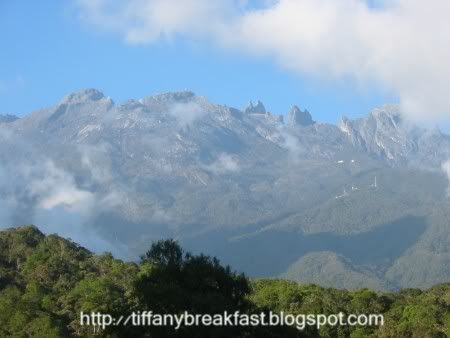 View of the mountain from outside our room
The next morning we were off at about 8.30am. The summit trail starts at the Timpohon Gate, which is 1,829m high. Our guide must have thought I was very fit because he began to walk at a rather fast pace (well, fast for me anyway. Considering that for every step he took, I have to take two steps!)
Oh, before I continue, just a few things to point out.
A) We have to get a guide as well as a permit.
B) We have to carry our own luggage on the 6km trek up the mountain to our next lodging for the night before the final summit. That means no unnecessary stuff like toner, cleanser, cosmetic etc.... But you have to carry the necessary things like warm clothes (temp is below zero on the summit), raincoat (it can rain within minutes), and lots of water! Bottled water costs about 5 times as much up there because they are carried all the way up by the locals who are paid about RM$3 per kilo for food. Some of these porters wear only slippers and they cover 12 km within an afternoon- up and down to Laban Rata, the lodging in the mountain!
C) If you really, really do not want to carry your own barangs- barangs, you can hire a porter to do it for you. Cost RM$7 per kilo. But then why attempt to climb the mountain if you are going to pay someone to carry your things?
Side note: One of the list of things to bring was toilet paper and dear hubby brought along a big, fat, brand, new roll, thinking that we would need it throughout the whole 4 days. Turned out we only need it at Laban Rata. So this very special roll of toilet paper has been to Mt Kinabalu and back. hahaha!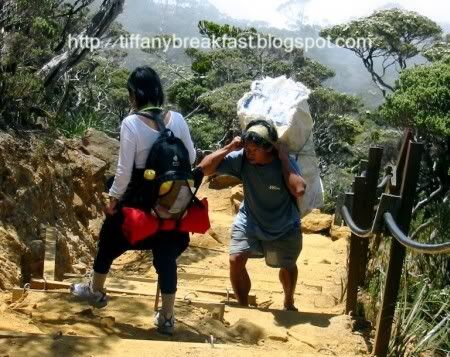 These porter are amazing. They walk up the mountain in shorts and slippers, carrying heavy stuff like water and food for Laban Rata, the only accomodation up in the mountain. Whilst we take about 7 to 8 hours to do this trail, dressed in protective gear, often armed with a walking stick and with many rest stops, these porters take only about slightly more than an hour to do so. Incredible!