Well, I guess that pretty much concludes my Phuket trip. Sorry if my posts have turned out to be like a holiday resort brochure. Hehe! But I do hope that some of you will visit the place sometime.
Oh before I end off... do you know that the Koreans really, really, realy like Phuket? 진짜! I think half of the guests at my hotel are Koreans. hehe! Of course, I took notice alot more and prick up my ears when I hear Korean. I tried very, very hard to understand what they wree talking about but unfortunately, sigh...
성생님, 미안해요.
And during the diving trip, we met an American with his Korean girlfriend. He commented he realised how strong the 'Korean Wave' was outside of Korea as everywhere he went, everyone seems to be interested in his girlfriend. (Maybe he was disappointed the spotlight wasn't on him?) haha! Me too! Me too! I wanted to try out my borken Korean with his girlfriend but was very shy. I was afraid they would think i was some lunatic ajuma. Anyway, he was asking us about the Hallyu in Singapore and I had to literally stop hubby from telling him that I was involved in a fan club! Gasp! I would have been so embarrassed.
But I did tell him that I was importing in Korean books and magazines as there was a market. But I'm sure he noted the eagerness in my tone and how I pricked up my ears when they started talking about Korean stuff... hehe!
Hmm.... he said there's a market for teaching English in Korea. Perhaps I can persuade hubby to do that and then we can move to Korea.
Wahahahaha!
Ok, ok... one last photo from the trip....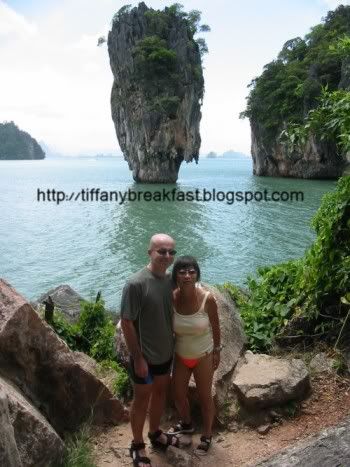 I want to go on a holiday again!